I bet we'll be hearing a lot more about Gelesis and their upcoming anti-obesity supplement, Attiva pretty soon.
Attiva is not a drug.  It's a pill composed of food-based polymers, so it's basically a natural supplement.
You take Attiva with a glass of water before eating a normal meal.  When the pill hits your stomach the polymers in Attiva swell to 100 times their normal size, turning into a gel that makes you feel full.  Meanwhile the gel meshes with your food, creating a thicker-than-normal slush in your stomach which slows the digestion process.  Once your stomach contents move on to your small intestine, sugar and fatty acid absorption into the bloodstream are also delayed…sort of a one-two punch.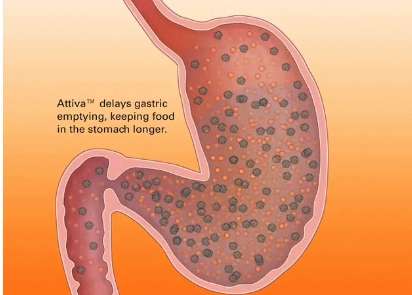 The best part is that you just poop out Attiva with the rest of your waste.  It never enters your bloodstream – it just passes through your digestive system.  It's essentially as effective as stomach-reducing surgeries, but without any of the risks or complications of surgery.
There are some videos explaining the process here.
Attiva just completed its first clinical trial, and the results seem promising.
The only other non-invasive obestity treatment with any real promise that I've seen has been hoodia gordonii, a rare plant native to South Africa.  I watched the BBC documentary about hoodia a few years ago and was pretty impressed…however it's been seven years since that documentary aired and a prescription drug which uses its active ingredient – the "P57 molecule" – has yet to hit the market.
There's plenty of unregulated over-the-counter supplements that claim to contain hoodia, but many either don't have any or just don't work at all.
Attiva seems like a neat approach to a growing problem. Heh.
Update 8/2014: Looks like Attiva has been renamed "Gelesis100" and, four years after coming out of the gate, they're no closer to having a product that you can buy. Thanks a gauntlet of FDA hurdles I'm reading that Gelesis100 won't be available to mere mortals until at least 2017.
Update 12/2021: 11 years after the initial announcement, the product once known as Attiva and Gelesis100 is now available.  A one month supply of what they're now calling Plenity is $100 and it requires a prescription, however you can get one within 24 hours after a free online consultation at MyPlenity.com, which feels a lot like the early days of weed dispensaries in California when they hired doctors to just stand there and write prescriptions all day.