WED's involvement in the 1964 World's Fair was good business for everyone involved. The four sponsoring pavilions (Ford, General Electric, Pepsi, and the state of Illinois) got to showcase state-of-the-art attractions delivered by Walt himself, and Disneyland received four new attractions at virtually no cost when the fair ended.
Back in 2001 imagineer Bruce Gordon looked into releasing the audio from those 1964 pavilions in a 4 CD box set. He unfortunately died that year and the uncompleted box set project appeared to have went with him.
In 2002 the whole she-bang popped up on Usenet and it continues to circulate to this day.
Well time has passed, legal hurdles with the licensing have been cleared, an official release is right around the corner.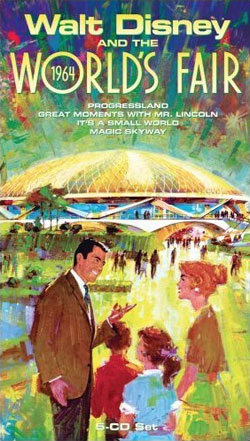 It was supposed to come out this week, but it's
been delayed
and Amazon is now showing a
March 24th
release date.
This officially sanctioned release includes a complete remastering of original recording sessions where needed and adds a fifth CD of bonus material from Progressland.
Outstanding!