Ms. Kate Marie turned 11 months old on January 1st, and here are the photos to prove it.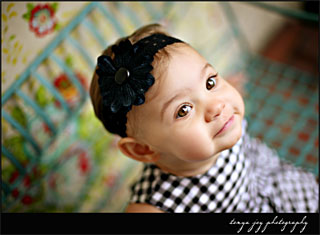 Her birthday falls on Superbowl Sunday this year, so we scheduled her party for the day before to avoid scheduling conflicts for our guests.
The theme of the party is cupcakes, because Kate is a little cupcake. Or cupkate.
Unbeknownst to me, Tammy had ordered a giant cupcake tin from Williams Sonoma for party cake making purposes. As soon as she opened the box and I saw what was inside, I knew what had to be done. I pushed Tammy into the wall, ripped it out of her hands, drove down to the grocery store to pick up some ingredients, and came back home to make a cake.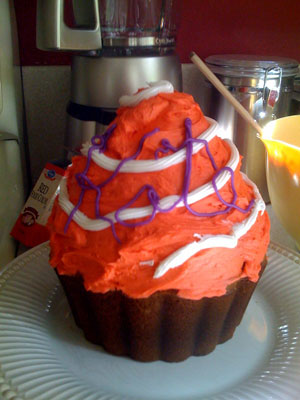 I overdid it on the food coloring, and the pink buttercream frosting turned out a little more salmony than I was hoping for. This was just a practice run though, so the actual party cake will be much pinker!
I've eaten my way through about half of this thing so far, and believe me when I tell you that when the recipe says "Serves 16″…that's a fair estimate.