It started with a trickle this year.
Christmas Creep.
I'm not talking about the Grinch.
I'm not talking about retailers putting Christmas decorations out in September.
I'm talking about the vinyl sharity sites that rip and share old Christmas albums. They've started slipping new albums into the ether and already my compulsive nature has me downloading music at a record pace.
It's hard to keep up, especially with RapidShare's 15 minute download restrictions. Whenever you think you've got "everything," another rss feed updates and you find yourself sitting in a queue, ready to grab the next holiday bundle and crank it through your favorite mp3 tag editor.
Christmas Forever, Cheerful Earful, Big Balls of Holly, FaLaLaLaLa, Hi-Fi Holiday, and A Christmas Yuleblog are just some of the sites that are now (or will soon be) sharing more Christmas music than you ever thought existed.
The Sharity season starts in earnest the day after Thanksgiving. Grab what you can until that day comes, because the firehose – once opened – will pin you to the wall and your mouse-clicking finger will cramp up before you can say eggnog.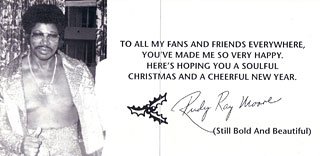 Now's probably a good time to note the
death of America's own Rudy Ray Moore
, aka The Human Tornado, aka Dolemite. Dolemite movies were a staple of latter-day high school sleepovers and I can still remember some of his hilarious routines.
Let's have a moment of silence.
…
Okay, silence is over. On with the downloading!