Kate's turning out to be a real trooper. She had two back-to-back days of overstimulation this weekend and she took it all in stride – barely putting up a fuss at all!
Saturday night we went to the Orange County Fair. I ate and ate and ate some more.
The poster advertising this hot dog did not do it justice. It was roughly twice the size of what I was expecting. I did not realize this until they handed it to me.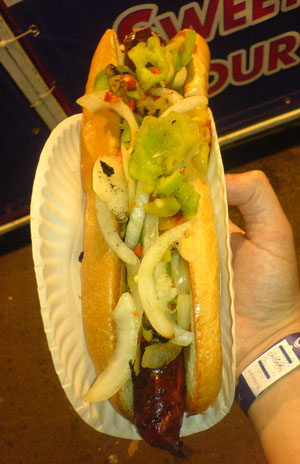 I ate it all! I could have done without the toppings though.
Kate stayed up until 11:30 that night, despite our attempts to get her to sleep in her stroller. It worked out for the best, because she didn't wake up until 10 the next morning!
Sunday we did DCA and Disneyland.
The reports you may have read are true – Toy Story Midway Mania makes Buzz Lightyear look like a rusty old relic. It's tons of fun and the shooting accuracy is spot-on.
I've lost count of how many times Kate's been to Disneyland, but she always manages to fall asleep before the fireworks start. This time she managed to stay up to see some of Fantasmic, but she lost interest after the first five minutes. You'd think she saw pyrotechnics every day or something. Kate fell asleep before Fantasmic was over and slept through the fireworks. She's so brave!
Anyhoo, I'm exhausted this morning.