Friends, the end is near.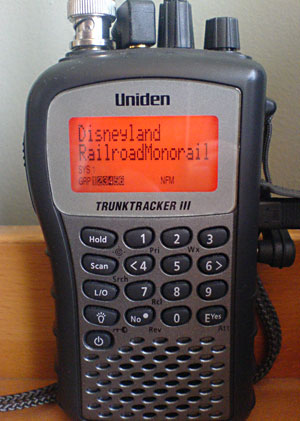 Disneyland's venerable
Motorola Type II Smartnet
radio system is quickly being phased out in favor of iDEN-based Nextel handhelds. (The Smartnet replaced conventional simplex handheld two-ways running ~464Mhz nearly a decade ago.)
I'm not really sure why they're phasing out the old system. I do know that consumer-level iDEN scanners don't exist, so the days of listening to what goes on behind the scenes are just about over. 🙁
Second only to the OC public safety system in size and reach, Disneyland ran the largest trunked radio system in Orange County – and also one of the most entertaining to listen to. By my count it hosted no less than 67 individual talkgroups across ten frequencies in its heyday.
Those talkgroups were the resort's communications backbone and supported activities throughout both theme parks, Downtown Disney, the three resort hotels, and all surrounding property (parking, TDA, etc). As you can imagine, there was no shortage of interesting things to listen to!
Today only a handful of talkgroups remain active on the Smartnet system, among them security, the railroad, monorail, facilities management, maintenance, and TPO. I don't expect those to remain active much longer.
Oh well. It was fun while it lasted.