The writers strike was awesome because it gave us all a chance to catch our breath and start watching shows that we maybe wouldn't have watched before.
Tammy and I watched Seasons 1 through 3 of Battlestar Galactica pretty much back-to-back over the past few weeks and it is SO GOOD. Seriously. So good. I can't believe we went so long without ever watching one of the best sci fi shows of the last decade.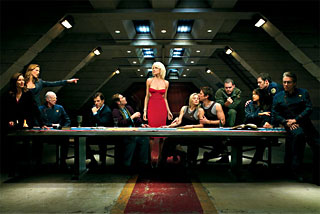 Here's a quick spoiler-loaded
eight-minute recap
of seasons 1-3.
The fourth and final season starts TONIGHT! And if you absolutely can't wait, you can watch the first episode in a tiny window on your computer screen over at http://www.scifi.com/ right NOW!